About Manual For Living: REALITY – Best Spiritual Book
Find True Fulfillment and Lasting Happiness
Overcome Your Fear of Death and Learn to Fully Experience Life
Reconnect With Your Inner Truth
Discover Your True Purpose
The award-winning Manual For Living: REALITY, A User's Guide to the Meaning of Life will change the way you see the world. Its straightforward guidance and practical wisdom will help you remain true to your path and purpose in life. A powerful, life-altering book to help you reconnect to your truth and your reason for being.
In life, answers often result only in further inquiry; the meaning we seek is found in the journey itself.  "We each have a path and purpose in life, a destiny as unique as our own fingerprints, yet we often live lives of petty obscurity and quiet desperation, ignoring our truth. It is our prerogative to find our purpose and fulfill it. The loss of a life is not as devastating as the loss what could have been, of the dreams left unfulfilled and passions undiscovered."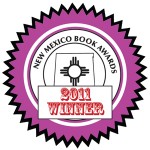 Whether our path is direct or circuitous, our destinations are constant; the eternal continuance of time combines with the temporal aspect of our physical existence.

REALITY  Chapters Include:
1. Time    2. Illness    3. Fear    4. Environment    5. Reality    6. Physicality
7. Death     8. Finance    9. Accumulation    10. Change    11. Simplicity
12. Balance   13. Happiness   14. Present Moment   15. Peace   16. Amazing Life
Purchase the Award-Winning Manual For Living: REALITY at your local bookstore, or order at Amazon.com today!
You can also order an Autographed Copy of Manual For Living: REALITY below (US Only)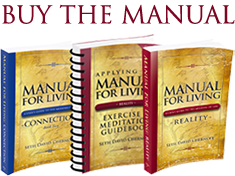 "I am a firm believer that when a person is ready, the teacher will appear, my teacher appeared when I picked up the Manual for Living! I have struggled with depression, addictions of all sorts and wounds from the past that still hurt me today . I have been searching for inner peace my whole life. I got great comfort and many questions answered from the Manual for Living. I have started picking it up when I am feeling lost and I have not been disappointed with the message that I receive. The book made such an impression on me I drove 1000 miles to meet Seth. What a wonderful soul he is! Seth lives his message and it is clear to see that when you are around him. I have given this book away to over 10 people and I will continue to give it away because I believe in the message it holds." - Kim G.
The Manual on Facebook
Tip of the Day — Saturday, September 23
"Every moment is an opportunity for greatness, to make the
changes that will bring us greater happiness and fulfillment." - Chernoff - REALITY