About Manual For Living: CONNECTION
CONNECTION is the second book in the award-winning Manual For Living series (NEW)!

CONNECTION is a thought-provoking, soulful inquiry. Award-winning author and two-time cancer survivor Seth David Chernoff guides us through a series of questions, asking why we think what we think and do what we do – in relationship to our own life, others in our immediate environment, and humanity at large. Written in easy to understand language with contemporary, practical examples, Connection shows us that our life is much grander than our circumstances; it is a gift filled with choices.
Connection is for anyone seeking out higher purpose and deeply satisfying relationships.
CONNECTION Chapters Include:  1. Connection    2. Communicate    3.  Disagreement    4.  Judgment    5. Letting Go    6. Forgiveness    7. Acceptance    8.  Gratitude    9. Attitude   10. Mind Power    11. Character    12. Heart    13. Friendships   14. Intimacy    15. Children
16.  Family & Parenting     17. Truth    18. Responsibility
Listen to a Radio Interview with Barbara Joye and Believe In The Moment Radio discussing CONNECTION (Length: 17 Minutes)  

Audio clip: Adobe Flash Player (version 9 or above) is required to play this audio clip. Download the latest version here. You also need to have JavaScript enabled in your browser.
Order an Autographed Copy of CONNECTION below (US ONLY)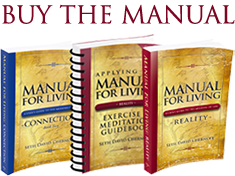 "I am a firm believer that when a person is ready, the teacher will appear, my teacher appeared when I picked up the Manual for Living! I have struggled with depression, addictions of all sorts and wounds from the past that still hurt me today . I have been searching for inner peace my whole life. I got great comfort and many questions answered from the Manual for Living. I have started picking it up when I am feeling lost and I have not been disappointed with the message that I receive. The book made such an impression on me I drove 1000 miles to meet Seth. What a wonderful soul he is! Seth lives his message and it is clear to see that when you are around him. I have given this book away to over 10 people and I will continue to give it away because I believe in the message it holds." - Kim G.
The Manual on Facebook
Tip of the Day — Friday, March 24
"Happiness is all we can hope for; it is the most important aspect of our reality and the outcome of any successful experience." - Chernoff - REALITY