Manual For Living Guidebook Companion Videos
The all new Applying the MANUAL FOR LIVING: Exercise & Meditation Guidebook is a happiness immersion program complete with 93-days of lessons. However, it is specifically designed for you to take at your own pace whether over 3-months or 3-years. Each day's lesson has an associated video, and I have decided to provide those videos here at no charge. ENJOY and as always, contact me with any questions!
LESSON #2 – Time Enough, Effective Time Management & Prioritization
LESSON #4 – Releasing the Past, Moving Forward, Letting Go
LESSON #12 – Cancer of the Soul, Awareness, Healing, Meaning, Emotional Spiritual
LESSON #17 – Toxic Living
LESSON #31 – Physical Health, Emotional Well-being, Your Body as a Vessel For Greatness
LESSON #33 – Learning From Lessons
LESSON #52 – Accumulation of Choices To Control Our Future
The Guidebook comes with over 90 support videos, exercises, meditations, daily mantras, and tons of powerful content. Order your very own copy of the new Applying the Manual For Living: Exercise & Meditation Guidebook!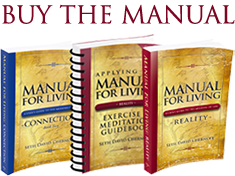 "I bought this book as I left a job without a plan, trusting that if you jump off the cliff you'll land on your feet because the universe loves you. Manual For Living was released just as I was making my decision to jump and felt like a sign so I bought it. I was glad I did. This book accomplishes what it sets out to do. I highly recommend this one." - Brendan Roberts
The Manual on Facebook
Tip of the Day — Saturday, February 24
"We use others as the benchmark for a balanced and healthy life- style, and by looking outside ourselves, we will always find what we are lacking in our own life." - Chernoff - REALITY