Press Archive
The Manual For Living book series has been featured in over 120 radio interviews, lectures across the US, online blogs, videos, magazines, newspapers, and much more. Some of the feature stories are listed below:
Prior to the publication of the Manual For Living series, Seth's work was previously featured in the following publications, and on TV in Europe and the US: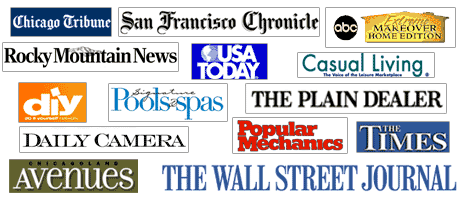 Here are some of the many media interviews for Manual For Living:
* DR. BUNNY SHOW, KKZZ 1400 RADIO
* Dayna Winters, ISIS Paranormal Investigations
* Monique Chapman, Raise Your Intuition IQ and Walking with Spirit
* MIGHTY MESS – Live Radio Interview
* Manual For Living Interview Featured on The Author Show
* CHUCK KRAMER MORNING SHOW – Live Radio Interview
* Health, Wealth and Happiness Radio with Gary Pozsik
* Radio interview with Cynthia Drasler, Healthy Living is Easy Radio
* AM OCALA WOCA RADIO/Ocala, Daytona Beach, Florida
* PRIME TIME LIVE – Live Radio Interview
* Interview on CBS Radio – John Carney Show to discuss Bishop Eddie Long
* STRATEGIES FOR LIVING KEEL AM 710/Shrevesport, Louisiana
* THE VALDER BEEBE SHOW KKVI FM/Dallas/Ft. Worth Texas – Taping Only
* MAURY'S MARKET WERE Radio/Cleveland, Ohio
* THE HOUSE OF BOUGE WITH KIM AND JIM KQLX RADIO/Fargo, North Dakota
* Transformations with Tara Sutphen (LIVE)
* LIVE Radio Interview with Jennifer Wallerstein
* Believe in the Moment Radio
* Wellness TakRadio with Host Kris Costello – Santa Barbara County, CA
* Interview on KGNU Radio with Mat Smith
* THE MORNING SHOW LIVE WELL SEGMENT, WINA 1070am / Charlottesville & Richmond VA
* Radio Interview with Nancy T. Ferrari, Health & Wellness Advocate
* LIFE LINE with host Anne Holliday, WESB AM 1490/Buffalo, NY & parts of Pennsylvania
* LIVE Author Lecture Event and Book Signing – Boulder Bookstore, Colorado
* HALTH NOTES KFAI RADIO/Minn/St. Paul MN
* Interview on the Michael Ray Dresser Radio Show
* Interview on The Christopher Gabriel Program, Fargo, ND
* Law of Distraction and Interruption Internet Radio Show
* Radio Interview on Live Your Best Life Radio with Tamara Grant
* THE LOW DOWN, WDVR RADIO/New York City, NJ & Philadelphia
* ALVIN AUGUSTUS JONES SHOW, WCBQ AM 1340/Raleigh/Durham, NC
* Interview on Paranormal Palace Radio
* THE MARK WAYNE SHOW WICH AM/Hartford, CT, New London, CT
* Heart of a Woman Radio Show, Heart of a Man Segment Interview
* TRON IN THE MORNING, KCMM AM1530 – Colorado Springs, CO
* THE NEAL STEELE SHOW, WXGM RADIO, FM99.1 /Norfolk, Virginia
* Radio Interview with Vaishali
* Interview on Energy Awareness with T Love
* THE BOB CUDMORE SHOW, WVIL RADIO
* YOUR SECOND 50 YEARS with host Heidi Headley, WTTB RADIO
* Voice of the People Radio
* TOTAL HEALTH, KCTE 1510 AM/Kansas City, MO & Kansas City Kansas
* Interview on the Intuitive Life Network
* Interview with Jamie Havican on Inception Radio
* Interview on WKRP Radio with Elaina McMillan, CHt. – BringBackThatSpark.com
* Interview on The Journey of Hope With Rodney Mathers
* The Kovacs Perspective Internet Radio Talk Show
* Live Interview with Steven Diamond on Stop Stressing Now
* COFFEE TALK with host Doug McDowell, KBKW AM 1450/Seattle,Tacoma, Washington
* Illuminations Radio with Kathy Gruver
* Living with RSD – Matrix Radio Show with Trudy Thomas
* Dr. Howard Gluss Show – KFNX1100 Phoenix and the Southwest
* Joe Donlan – Ordaining Reality Radio Show
* World Spirituality on Unity.FM with Rev John Paul Roach
* The Sharon Kleyne Hour – Syndicated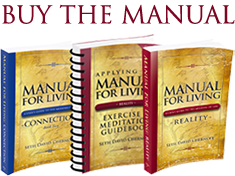 "I am a firm believer that when a person is ready, the teacher will appear, my teacher appeared when I picked up the Manual for Living! I have struggled with depression, addictions of all sorts and wounds from the past that still hurt me today . I have been searching for inner peace my whole life. I got great comfort and many questions answered from the Manual for Living. I have started picking it up when I am feeling lost and I have not been disappointed with the message that I receive. The book made such an impression on me I drove 1000 miles to meet Seth. What a wonderful soul he is! Seth lives his message and it is clear to see that when you are around him. I have given this book away to over 10 people and I will continue to give it away because I believe in the message it holds." - Kim G.
The Manual on Facebook
Tip of the Day — Wednesday, June 28
"We can find joy and beauty in the sharing of magnificence, for living out of the potential for greatness is much more fulfilling than living out of the fear of failure." - Chernoff - REALITY