Pre-Program Questionnaire
This questionnaire is designed to help Seth prepare for your group so that we can best serve you. Please take a few moments to fully answer all the questions and hit "complete" when you are finished.
Or, you can print this page out and fax it to our offices (303-531-5217). Thanks for your help!
SPECIAL REQUEST: Please add S@SethChernoff.com to your email distribution list that pertains to the event that he is speaking for. If you have printed material on your organization, please forward copies to Seth.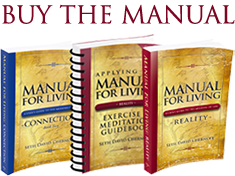 "The messages from you on time and the present moment were so powerful and uplifting that the core encryption remained with me all day. I wrote down the affirmation, I consciously choose greatness in every moment and was able to complete work with a new-found Joy and a deep feeling of Expansion. It is the Purity of Intention in your Writing that I am resonating with and I Recognize the Gift you are Offering to Humanity at this crucial Time in our Evolution. Thank You, dear Seth!" - Lilly W.
The Manual on Facebook
Tip of the Day — Tuesday, December 12
"Every moment is an opportunity for greatness, to make the
changes that will bring us greater happiness and fulfillment." - Chernoff - REALITY