Pre-Program Questionnaire
This questionnaire is designed to help Seth prepare for your group so that we can best serve you. Please take a few moments to fully answer all the questions and hit "complete" when you are finished.
Or, you can print this page out and fax it to our offices (303-531-5217). Thanks for your help!
SPECIAL REQUEST: Please add S@SethChernoff.com to your email distribution list that pertains to the event that he is speaking for. If you have printed material on your organization, please forward copies to Seth.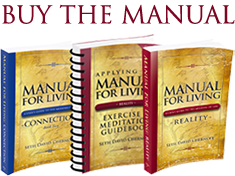 "This book could not have been more appropriate and needed. This gift you sent out to the world will forever be greeted with grateful and loving arms. Thank you for everything but most of all the keys." - Claudia R
The Manual on Facebook
Tip of the Day — Saturday, February 24
"Seldom is hatred as strong as when it is the result of two people who previously loved each other." - Chernoff - CONNECTION