Pre-Program Questionnaire
This questionnaire is designed to help Seth prepare for your group so that we can best serve you. Please take a few moments to fully answer all the questions and hit "complete" when you are finished.
Or, you can print this page out and fax it to our offices (303-531-5217). Thanks for your help!
SPECIAL REQUEST: Please add S@SethChernoff.com to your email distribution list that pertains to the event that he is speaking for. If you have printed material on your organization, please forward copies to Seth.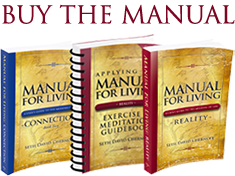 "I am a firm believer that when a person is ready, the teacher will appear, my teacher appeared when I picked up the Manual for Living! I have struggled with depression, addictions of all sorts and wounds from the past that still hurt me today . I have been searching for inner peace my whole life. I got great comfort and many questions answered from the Manual for Living. I have started picking it up when I am feeling lost and I have not been disappointed with the message that I receive. The book made such an impression on me I drove 1000 miles to meet Seth. What a wonderful soul he is! Seth lives his message and it is clear to see that when you are around him. I have given this book away to over 10 people and I will continue to give it away because I believe in the message it holds." - Kim G.
The Manual on Facebook
Tip of the Day — Wednesday, August 16
"We forget that life is so quickly over and that living in the moment does not allow time for regret." - Chernoff - CONNECTION