FOR IMMEDIATE RELEASE
TWO-TIME CANCER SURVIVOR CREATES TOTAL HAPPINESS IMMERSION PROGRAM
New York, New York—March 22, 2012 — Happiness becomes less of a concept and more of a step-by-step pursuit with the release of award-winning author, Seth Chernoff's True Happiness Immersion Program, based on his best selling book, MANUAL FOR LIVING: REALITY, A User's Guide to the Meaning of Life (Spirit Scope Publishing). REALITY is the first in a series of three books designed to provide a road map for life's trials on an as needed basis, and the video series on True Happiness Immersion takes it light years further.
Two-time cancer survivor Seth David Chernoff (www.SethChernoff.com) released the introductory True Happiness Immersion Video Series and worksheets at no cost, simply as part of his personal mission to inspire a better world, one person at a time, no matter what our obstacles might be.
Chernoff understands that obstacles are as unique as the individuals facing them; in this video series he tackles the themes of Happiness and Purpose in a straightforward manner, providing downloads and takeaways to assist the viewer with the real work of life transformation. The aim is to engage the audience to reconnect with their inner truth, purpose and happiness and to set a course that will result in changed thoughts, attitudes, behaviors and habits, leading to the simplest of all things: Happiness.
Seth Chernoff uses his own hard-won insight and life experiences to illuminate for his readers a pathway to happiness. In the welcome video he shares: "There's a formula for mass, gravity, energy and the speed of light. The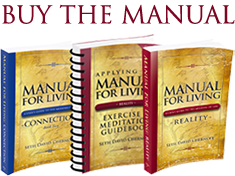 "A direction in life is all some people need...a two-time cancer survivor's plea to his readers to live their life to the fullest using the advice within. Stating the power of family, love, peace, changing one's life for the better and being prepared for death, he has much to help readers fully embrace life. "Manual for Living" is a read that should be fully embraced by those who have lost their way." - Midwest Book Review
The Manual on Facebook
Tip of the Day — Tuesday, July 29
"It is our ability to efficiently and effectively adapt to obstacles as they are presented that determines the pain or suffering we experience throughout our lifetime." - Chernoff - REALITY