FOR IMMEDIATE RELEASE
TWO-TIME CANCER SURVIVOR CREATES TOTAL HAPPINESS IMMERSION PROGRAM
New York, New York—March 22, 2012 — Happiness becomes less of a concept and more of a step-by-step pursuit with the release of award-winning author, Seth Chernoff's True Happiness Immersion Program, based on his best selling book, MANUAL FOR LIVING: REALITY, A User's Guide to the Meaning of Life (Spirit Scope Publishing). REALITY is the first in a series of three books designed to provide a road map for life's trials on an as needed basis, and the video series on True Happiness Immersion takes it light years further.
Two-time cancer survivor Seth David Chernoff (www.SethChernoff.com) released the introductory True Happiness Immersion Video Series and worksheets at no cost, simply as part of his personal mission to inspire a better world, one person at a time, no matter what our obstacles might be.
Chernoff understands that obstacles are as unique as the individuals facing them; in this video series he tackles the themes of Happiness and Purpose in a straightforward manner, providing downloads and takeaways to assist the viewer with the real work of life transformation. The aim is to engage the audience to reconnect with their inner truth, purpose and happiness and to set a course that will result in changed thoughts, attitudes, behaviors and habits, leading to the simplest of all things: Happiness.
Seth Chernoff uses his own hard-won insight and life experiences to illuminate for his readers a pathway to happiness. In the welcome video he shares: "There's a formula for mass, gravity, energy and the speed of light. There's a formula for True Happiness. It's not just random and coincidental. There's a set of tools, principles and strategies that practically assure happiness in your life." He's earned the right to share on this subject. Chernoff is not only a two-time cancer survivor – but is an expert on True Happiness, having studied this work for over two decades. He has given hundreds of media interviews and gives lectures and workshops on true happiness all over the country.
Chernoff offers a path for others to stop focusing on the negativity in life and to instead, pursue a life that will result in true happiness and a purposeful existence. His simple-to-use True Happiness Matrix™ is a comprehensive life transformation system, outlining the three pillars that must be mastered to find true and lasting happiness.
Seth David Chernoff is the award-winning author of the acclaimed Manual For Living book series. He was given the amazing gift of life after surviving cancer on two separate occasions. He is an inspiring leader and an in-demand speaker, trainer and coach. Seth has helped thousands of people find true happiness and fulfillment through his books, seminars, and lectures. Seth's life-changing message has been featured in The Wall Street Journal, Chicago Tribune, San Francisco Chronicle, Popular Mechanics, Business Week, USA Today, and on hundreds of TV and radio interviews nationally and internationally. As the founder of True Happiness Immersion, Chernoff is a leading expert on Happiness & Fulfillment. Learn more at www.SethChernoff.com.
For more information, visit http://www.ManualForLiving.com.
###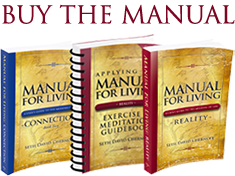 "I hope you were able to tell with just those few glimpses the greatness of this book. It is a beautiful testament to life and living. A book to help one reach his greatest potential and grasp his dreams." - A Novel Source
The Manual on Facebook
Tip of the Day — Friday, February 23
"Seldom is hatred as strong as when it is the result of two people who previously loved each other." - Chernoff - CONNECTION