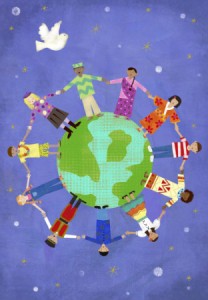 How significant is this moment? Let me provide you with some incredible statistics:
The World is 4.55 billion years old.
In the year 10,000 B.C., there were only 5 million people on earth. By 8,000 B.C., this figure had risen to only 8 million.
Around the year 1900 there were 1.6 Billion people on the earth. NOW there is a total population of the world at just under 6.8 BILLION. In just over 100 years our population has QUADRUPLED. (Oddly enough, the current global population of chickens is about equal to the current number of people in the world.)

TODAY ALONE, the population of the world will increase by over 200,000 people. Today, China will increase in population by over 24,000 people, and India by over 49,000 people. Russia is one of the few countries with a population that is actually DECREASING on a daily basis, by almost 2,000 people every day.
Before the year 2050, India will surpass China as the largest country in the world, estimated to hit over 1.5 BILLION people. The population of India has almost TRIPLED from 1950 to 2000 (It is expected to increase by 50% in the next 40 years.)

Source: The World Factbook, 2008
Interesting Facts of the world from the last ONE MINUTE of your life! I call this section – "During your first minute of reading this:"
During the first minute of your time reading this, an estimated 255 babies were born.

During the same minute, an estimated 107 people died (almost 6% of the people who died in that minute, died of a fully preventable ailment – hunger). This is an overage of 147 people, increasing the global population by around 80 MILLION every year.

In just 1 minute: 141 MILLION email messages were sent, and 775,000 searches were completed on Google.com.

Google has 200M searches per day
There were 360 million internet users in 2000. This year, there are almost SEVEN BILLION

In just 1 minute: 43,000 TONS of Carbon dioxide (CO2) were emitted into the world, 56,674 barrels of oil were pumped from the earth (1 barrel equals 42 gallons)

The 23 million residents of the US state of Texas emit more carbon dioxide than the entire population of sub-Saharan Africa, which is 720 million people.

Additional sources: Committee to Protect Journalists, The Inter-parliamentary Union, UNICEF

In just 1 minute: Over 10 MILLION cigarettes were smoked

Every day, the average person inhales about 20,000 liters of air.
Smoking deaths – Around 5.4 million deaths a year worldwide (1,205 per day US only)

In just 1 minute: $220M was spent on illegal drugs.

In just 1 minute: 10 people died as a result of water pollution (Water pollution accounts for the death of 14,000 per day) http://environment.about.com/od/environmentalevents/a/waterdayqa.htm

In just 1 minute: 34 people were diagnosed with cancer

Over 12 million new cancer cases were diagnosed and 7.6 million cancer deaths (about 20,000 cancer deaths a day) occurred worldwide in 2007

In just 1 minute: 2 people died in a road accident

An estimated 1.17 million deaths occur each year worldwide due to road accidents
OUR WORLD and POPULATION STATISTICS
New York City is far from the largest city in the world, actually in 16thplace at just under 8.5 million people, but after Shenzhen: China, Tokyo: Japan, Jakarta: Indonesia, Seoul: South Korea, and Instanbul: Turkey.

In 2006, 2.6 billion people, or 40% of the world's population, lived on less than $2 a day, with 1 billion of them surviving on the margins of subsistence with less than $1 a day.

The largest passenger airport IN THE WORLD is actually Atlanta, at over 89 million passengers in 2007 and over 90 million in 2008. The second largest passenger airport in the world is Chicago O'Hare at over 76 million passengers in 2007 but only 69 million in 2008. In fact, the United States oversees four of the seven largest airports in the world, and 16 of the 30 largest airports in the world. (source: Airport Council International)
The port of Singapore received almost 28 million containers in 2007, making it the largest container port in the world. Shanghai, China was in second place at 26 million. The Los Angeles and Long Beach, California container ports COMBINED equaled just over 15 million containers in 2007.
A very interesting resource detailing the activities of our world in this moment – http://www.reekoscience.com/Games/RealTimeWorldStats.aspx
Enough of the heavy stuff – here for a few FUN FACTS:
In Los Angeles, there are fewer people than there are automobiles.
Most lipstick contains fish scales.
Yes, the present moment is very special…in just one minute the entire world will change right in front of your eyes. Take a moment to breathe and make sure your choices support the world in which we live and our greater communities.
2 Website Comments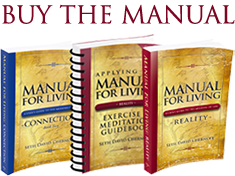 "A great little read in how in just shifting your perspective, you can make major changes. No matter what comes down the road, you always have control on how to view it and in how you let it affect you. If you don\'t get anything out of this, then maybe, you should check to see if you have departed from this life as I think there is something here for everyone," - Dennis Waller
The Manual on Facebook
Tip of the Day — Saturday, February 24
"It is our ability to efficiently and effectively adapt to obstacles as they are presented that determines the pain or suffering we experience throughout our lifetime." - Chernoff - REALITY