Exercise & Meditation Companion Guidebook – NEW!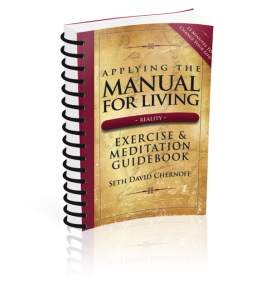 JUST RELEASED! – the companion guide to the award-winning Manual For Living: REALITY:
Yes, you really are worth it. There is no quick fix to life, no magic pill that will resolve your issues or fulfill your dreams. Challenges and obstacles are a natural part of this physical life. Transformation in life requires an ongoing commitment to growth and greatness. Physical fitness requires regular exercise, a focus on healthy eating, a consistent sleep schedule, etc. Taking care of our teeth requires daily brushing, flossing, and semi-annual cleanings. Why wouldn't we commit an equal amount of time or effort to finding lasting happiness, fulfillment, and discovering our true purpose in life?
"5 stars for sure. I find this book uncomfortably soul searching. It is a workbook in the truest sense. The answers are not graded but come from your innermost being. It is not a "reading" book but one that asks questions that you know the answer to but have not wanted to face up to perhaps. I am not working on this on a daily basis but move thru the exercises when I feel ready. It is progressive but meaningfully. Working thru the segments of Time, Illness, Fear, Environment, Reality, Physicality, Death, Finance, etc. takes time and deep thought. The daily mantras and evening meditations are very beneficial. I'm very grateful to have this book become an integral part of my opening up to a deeper honesty." – Czarnopys, Library Thing
This 324 page Guidebook will take you step by step from where you are to where you want to be. Practical exercises, daily meditations, and so much more to help you transform your life – starting now. Don't wait until tomorrow, next week or next year to make the changes that will improve your quality of life and allow you to find a greater sense of happiness and wellbeing. Fifteen minutes a day and a true commitment to change your life is all it takes.
Every daily exercise is broken into FIVE SECTIONS:
VIDEO TRAINING:

Everyone who purchases the Companion Guide will be given automatic access to a video for every lesson of the 90-day series.

REFERENCE

: The Exercise & Meditation Companion Guide follows the structure of Manual For Living: REALITY. The reference section pulls pertinent and specific information as it relates to the goal for the day.

DAILY MANTRA

: Ideally you will read this mantra first thing in the morning and will take it with you throughout the day either in your workbook, or by transcribing it on another sheet of paper.

EXERCISE / PRACTICE

: Some exercises are more intricate than others, but they will all contribute to your overall well-being and happiness. Take the time to complete the exercise. Don't just do it in your head – write it down. It's your workbook – USE IT.

EVENING MEDITATION

: The evening meditations are designed to be read and pondered as you drift off to sleep, allow the meditation to be your focused intention.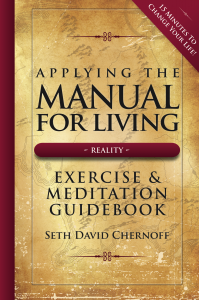 With this extraordinary Guidebook, Seth David Chernoff invites you to consciously create your existence from a place of empowerment and freedom. You are here in this life for a reason. You have a unique path and purpose that nobody else in the world can fulfill for you. Your opportunity is to discover what that is, and to live it in every waking moment. Just remember – whatever it takes – your dreams are worth it. You are worth it.
"I am a firm believer that when a person is ready, the teacher will appear, my teacher appeared when I picked up the Manual for Living! I have struggled with depression, addictions of all sorts and wounds from the past that still hurt me today . I have been searching for inner peace my whole life. I got great comfort and many questions answered from the Manual for Living. I have started picking it up when I am feeling lost and I have not been disappointed with the message that I receive. The book made such an impression on me I drove 1000 miles to meet Seth. What a wonderful soul he is! Seth lives his message and it is clear to see that when you are around him. I have given this book away to over 10 people and I will continue to give it away because I believe in the message it holds." – Kim G, Austin, TX
This is the ultimate companion guide to Manual For Living: REALITY, A User's Guide to the Meaning of Life. Each section of this guidebook coincides with a chapter from REALITY, and you may choose to read the section in the book prior to doing the exercises.
Click here to watch a few of the complimentary Guidebook Companion Videos.
Or, order an Autographed copy of the GUIDEBOOK here: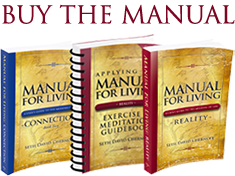 "I have always considered myself a spiritual person. Reading this book just confirmed that belief. I learned so much from this book that I feel overwhelmed. This would be the perfect gift for someone who is going through a rough time right now. It is absolutely amazing." - Readaholic
The Manual on Facebook
Tip of the Day — Saturday, February 24
"Children learn more from who we are than by what we say or
attempt to teach or preach." - Chernoff - CONNECTION