Terms of Use and Privacy Policy
Welcome to the SethChernoff.com Web site. This site is owned by Seth David Chernoff and operated by Spirit Scope, LLC.
These Terms of Use, along with policies and guidelines located throughout the SethChernoff.com Web site identify what users of the SethChernoff.com Web site can expect from SethChernoff.com, and what we expect from users. By accessing any areas of the SethChernoff.com Web site, users are deemed to have accepted these Terms of Use and other policies and guidelines identified throughout the SethChernoff.com Web site.
Privacy Policy
SethChernoff.com respects the privacy of its Users. The terms and conditions of the SethChernoff.com's Privacy Policy, are incorporated herein by reference.
Content
Proprietary Rights
User acknowledges that the SethChernoff.com Web site contains Content that are protected by copyrights, trademarks, trade secrets, or other proprietary rights, and that these rights are valid and protected in all forms, media and technologies existing now or hereinafter developed. All Content is copyrighted as a collective work under the U.S. copyright laws, and SethChernoff.com owns a copyright in the selection, coordination, arrangement, and enhancement of such Content. User may not modify, remove, delete, augment, add to, publish, transmit, participate in the transfer or sale of, create derivative works from, or in any way exploit any of the Content, in whole or in part. If no specific restrictions are displayed, Users may make copies of select portions of the Content, provided that the copies are made only for User's personal use and that User maintains any notices contained in the Content, such as all copyright notices, trademark legends, or other proprietary rights notices. Except as provided in the preceding sentence or as permitted by the fair use privilege under the U.S. copyright laws (see, e.g., 17 U.S.C. Section 107), User may not upload, post, reproduce, or distribute in any way Content protected by copyright, or other proprietary right, without obtaining permission of the owner of the copyright or other propriety right. In addition to the foregoing, use of any software Content shall be governed by the software license agreement accompanying such software.
Third-Party Content
In some instances, the Content available through the SethChernoff.com Web site represents the opinions and judgments of the respective third party providing such Content. SethChernoff.com neither endorses nor is responsible for the accuracy or reliability of any opinion, advice, or statement made on the SethChernoff.com Web site by anyone other than SethChernoff.com. Under no circumstances shall SethChernoff.com, Spirit Scope, LLC. or its affiliates, or any of their officers, directors, employees, or agents be liable for any loss, damage or harm caused by a User's reliance on information obtained through the SethChernoff.com Web site. It is the responsibility of User to evaluate the information, opinion, advice, or other Content available through the SethChernoff.com Web site.
Termination of Usage
SethChernoff.com may suspend or terminate any User's access to all or any part of the SethChernoff.com Web site including any account thereon, without notice, for any reason at SethChernoff.com's sole discretion.
Disclaimers and Limitations of Liability
THE SETHCHERNOFF.COM Web site IS PROVIDED BY SETH DAVID CHERNOFF ON AN "AS IS" AND "AS AVAILABLE" BASIS. TO THE FULLEST EXTENT PERMISSIBLE BY APPLICABLE LAW, SETH DAVID CHERNOFF DISCLAIMS ALL IMPLIED WARRANTIES.
WITHOUT LIMITING THE FOREGOING, SETH DAVID CHERNOFFMAKES NO REPRESENTATION OR WARRANTY OF ANY KIND, EXPRESS OR IMPLIED: (I) AS TO THE OPERATION OF THE SETHCHERNOFF.COM Web site, OR THE INFORMATION, CONTENT, MATERIALS OR PRODUCTS INCLUDED THEREON; (II) THAT THE SETHCHERNOFF.COM Web site WILL BE UNINTERRUPTED OR ERROR-FREE; (III) AS TO THE ACCURACY, RELIABILITY, OR CURRENCY OF ANY INFORMATION, CONTENT, SERVICE, OR MERCHANDISE PROVIDED THROUGH THE SETHCHERNOFF.COM Web site; OR (IV) THAT THE SETHCHERNOFF.COM Web site, ITS SERVERS, OR E-MAIL SENT FROM OR ON BEHALF OF SETHCHERNOFF.COM ARE FREE OF VIRUSES OR OTHER HARMFUL COMPONENTS.
SETH DAVID CHERNOFF DOES NOT GUARANTEE THE CONTINUOUS, UNINTERRUPTED OR SECURE ACCESS TO THE SETHCHERNOFF.COM Web site OR ANY RELATED SERVICES. THE OPERATION OF THE SETHCHERNOFF.COM Web site MAY BE INTERFERED WITH BY NUMEROUS FACTORS OUTSIDE THE CONTROL OF SETH DAVID CHERNOFF.
UNDER NO CIRCUMSTANCES SHALL SETH DAVID CHERNOFF OR SPIRIT SCOPE, LLC. BE LIABLE FOR ANY DAMAGES THAT RESULT FROM THE USE OF OR INABILITY TO USE THE SETHCHERNOFF.COM Web site, INCLUDING BUT NOT LIMITED TO RELIANCE BY A USER ON ANY INFORMATION OBTAINED FROM THE SETHCHERNOFF.COM Web site OR THAT RESULT FROM MISTAKES, OMISSIONS, INTERRUPTIONS, DELETION OF FILES OR EMAIL, ERRORS, DEFECTS, VIRUSES, DELAYS IN OPERATION OR TRANSMISSION, OR ANY FAILURE OF PERFORMANCE, WHETHER OR NOT RESULTING FROM ACTS OF GOD, COMMUNICATIONS FAILURE, THEFT, DESTRUCTION, OR UNAUTHORIZED ACCESS TO SETHCHERNOFF.COM RECORDS, PROGRAMS, OR SERVICES. USER HEREBY ACKNOWLEDGES THAT THIS PARAGRAPH SHALL APPLY TO ALL CONTENT, MERCHANDISE, AND SERVICES AVAILABLE THROUGH THE SETHCHERNOFF.COM Web site.
CERTAIN STATE LAWS DO NOT ALLOW LIMITATIONS ON IMPLIED WARRANTIES OR THE EXCLUSION OR LIMITATION OF CERTAIN DAMAGES. IF THESE LAWS APPLY TO A USER, SOME OR ALL OF THE ABOVE DISCLAIMERS, EXCLUSIONS, OR LIMITATIONS MAY NOT APPLY TO SUCH USER, AND SUCH USER MAY HAVE ADDITIONAL RIGHTS.
Acknowledgement
The Terms of Use, including all documents referenced herein, represents the entire understanding between User and SethChernoff.com regarding User's relationship with SethChernoff.com and supersedes any prior statements or representations. When using the SethChernoff.com Web site or making a purchase there from, USER AGREES TO BE BOUND BY THESE TERMS OF USE.
Modification
Seth David Chernoff reserves the right to make changes to the SethChernoff.com Web site, posted policies and these Terms of Use at any time without notice. These Terms of Use were last revised on September 12, 2010.
Privacy
SethChernoff.com has created this privacy statement in order to demonstrate our firm commitment to privacy. The following discloses our information gathering and dissemination practices for this Web site: Our online e-newsletter asks users to give us contact information (like their name and e-mail address). This information is used to contact the visitor when necessary about special promotions, events, discounts, and messages from Seth David Chernoff, and is never divulged to third parties. This site contains links to other sites. Seth David Chernoff is not responsible for the privacy practices or the content of such Web sites.
Our site uses an order form for customers to request information, products, and services. We collect visitor's contact information (like their e-mail address) and financial information (like their account or credit card numbers). Contact information from the order form is used to send orders, information about our company, and occasional future promotional material. The customer's contact information is also used to get in touch with the customer when necessary regarding the order. Financial information that is collected is used to bill the user for products and services only.
Choice/Opt-Out
Please contact Customer Service to request the removal of your information from our database or to no longer receive future communications.
Contacting the Web site
If you have any questions about this privacy statement, the practices of this site, or your dealings with this Web site, you can contact Seth David Chernoff at the address below.
Seth David Chernoff
c/o Spirit Scope, LLC
6525 Gunpark Drive,
Suite 370-249
Boulder, CO 80301
t: 303.350.3990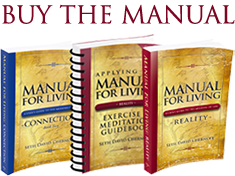 "A great little read in how in just shifting your perspective, you can make major changes. No matter what comes down the road, you always have control on how to view it and in how you let it affect you. If you don\'t get anything out of this, then maybe, you should check to see if you have departed from this life as I think there is something here for everyone," - Dennis Waller
The Manual on Facebook
Tip of the Day — Saturday, February 24
"Living a life of balance is a constant, moment-by-moment inte- gration of life's inner and outer priorities." - Chernoff - REALITY