Press Kits
Manual For Living: CONNECTION
A User's Guide to the Meaning of Life
(Spirit Scope Publishing, Publication Date September 21, 2011, ISBN: 978-1-937215-00-2, 296 pages)
To view the updated schedule of media events, please visit our Media Events page.
Manual For Living: REALITY
A User's Guide to the Meaning of Life
(Spirit Scope Publishing, Publication Date June, 2010, ISBN: 978-0984093-09-0, 298 pages)
If you have a publicity request or if you would like to have Seth David Chernoff make a guest appearance on your show, please call 303-350-3990 or email us by Clicking Here. If you would like listen to some of Seth's many media interviews, or to read transcripts of them, please visit our Press & Media Archive section of the website.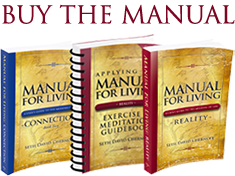 "From a listener from an interview with Seth David Chernoff on the Dr. Bunny Show, KKZZ 1400 Radio: \"Dear Bunny: This was one of the best shows that you have had, it really put everything into perspective in life. Intellectually, spiritually and with great humanism, wow it touched my heart and you can quote me."" - Dana Hansen
The Manual on Facebook
Tip of the Day — Saturday, February 24
"We need to be wealthy in our giving to others and caring for ourselves. We need to be rich in our personal evolution and growth." - Chernoff - REALITY