Why do some of us persevere, and others who simply give up? There are those of us who will give anything to achieve our dreams, and others who would give anything to stay on the couch. Following our dreams requires dedication, perseverance, persistence, overcoming obstacles, and more often than not – sacrifice. Most dreams are worth the sacrifice. What would you give to be happy? How hard would you work to fulfill your purpose in life? We often sacrifice for the wrong reasons and for the wrong people, but our life has a purpose, and it is our job to discover that purpose and to fulfill it in every way possible. True happiness is a result of the actions we take in every moment. The journey of a thousand miles does begin with one step…and then another, and another, and another, ad infinitum.
Take thetrue motivational story of Ms. Cha which was published today in the New York Times. Most of us take for granted the fact that we have a driver's license. This story is about a woman in South Korea who wanted a drivers license so bad, that she had to retake the written drivers test 949 times! Not only did she study voraciously (and receive tutoring), she had to get up at 4am to take three different buses to get there, and it cost her $5 every time she took the test! She invested many years of her life, but eventually she persevered. Clearly, her desire and perhaps a little stubbornness gave her the strength to overcome all obstacles and fulfill her dream. For the full article – http://www.nytimes.com/2010/09/04/world/asia/04driver.html?_r=1&scp=1&sq=at%20first%20she%20didn%27t%20succeed&st=cse
As is many times the case – the irony makes the story all the sweeter. Her name is Ms. Cha, which is Korean for "vehicle". Secondly, through her hard work and dedication, she became a celebrity, received a free car from Hyundai-Kia, and is featured in their television commercials. Sometimes, our dreams take on a life of their own, especially when we give ourselves into the possibilities of the future.
How important are your dreams? How badly do you want them? Don't expect immediate results because the larger the dream, quite often the more time and effort it will require to achieve. However, most dreams are worth the investment. As they say, it doesn't matter what path you took to get there, once you get to the top of the mountain, the view is the same. You are worth it, and your dreams are worth it. Be strong, don't give up, persevere, and as they say in Korea: Sajeonogi</em>.
Many Blessings,
Seth
PS – In case you needed some inspiration and gratitude for today, and missed this amazing story, a few weeks ago a plane crashed in Columbia. You can see the wreckage here. Amazingly enough there was only one casualty, and that absolutely is a miracle. You can read the full story here: http://www.cbsnews.com/stories/2010/08/17/world/main6780068.shtml. Life is short – don't take your life for granted.
PSS -Do you want to learn more about my award-wining book Manual For Living: Reality, A User's Guide to the Meaning of Life? Listen to one of more than 15 radio shows I'm scheduled for this month. For a full list of scheduled events, please visit: http://www.sethchernoff.com/media-schedule/. If you haven't bought the book yet, but would like to, please visit www.ManualForLiving.com!
2 Website Comments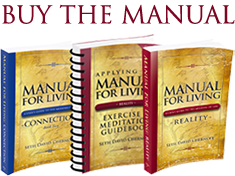 "We all need inspirational and motivation in areas of our lives that pertain to what we are currently going through so if you need a great "quick pick me up" just pick up this book. It is easy to read, and understand with practical examples. I would recommend this book for anyone in any age group other than children as it is meant to open our hearts and minds to the life we need to live in the present moment to seek out our true potential, purpose and a more satisfying relationships with others." - Jackie Paulson
The Manual on Facebook
Tip of the Day — Saturday, February 24
"We use others as the benchmark for a balanced and healthy life- style, and by looking outside ourselves, we will always find what we are lacking in our own life." - Chernoff - REALITY